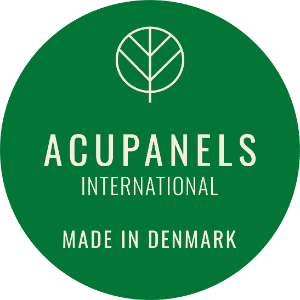 Acupanels
The Brand; Acupanels was created simultaneous with Acupanels International ApS the company back in 2019.
Acupanels is one of the leading manufactureres of FSC®-certified acoustic panels in a variety of domestic and international wood spicies. In our assortment you will also find beautiful panels made with linoleum, laminate, slate, and foil. These panels will support the aesthetic and architectonical expression perfectly in a moderne home environment, business landscape, and everything in between.
The acoustic panels in out assortment are avaliable in 120 cm, 240 cm, 300 cm, and some even in 360 cm. This enables you in creating a wall of panels without joins. In addition to creating beautiful walls and ceilings, the acoustic panels aids in creating a healthy acoustic environment by dampening the echoing and acoustic feedback by up to 50%.
More on the Brand and products at the Acupanels website.